For additional information on this event please contact joseph.orazio@collins.com
Come join us on Saturday November 19th for our first meeting of the year-
Topic: C.A.T.C.H. (Conduct Assessment Targeting Criminality & Hostility) training focuses on elevating employees' situational awareness in their typical operating environments and provides them a unique understanding of specific conduct potentially displayed by individuals engaging in criminal or hostile acts. This training is intended to enhance both staff and public safety.
*To register please email joseph.orazio@collins.com with the subject line November Technical Meeting Registration*
See below for application information and link included to download post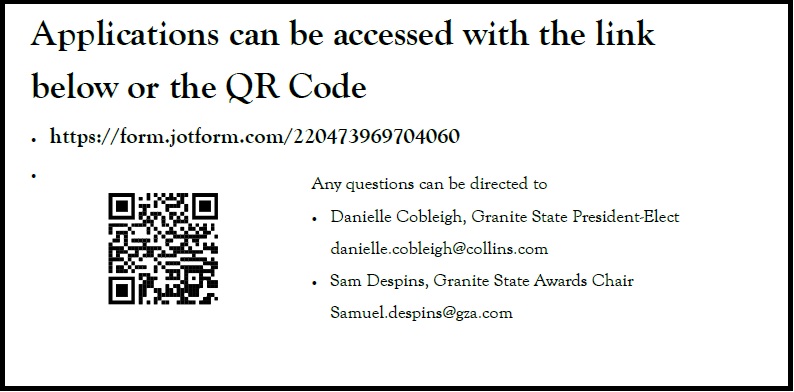 Are you coming up on renewing your certifications? Are you looking to become certified? Come join the GS Chapter on May 14th from 9:00AM to 12:00PM at the OSHA Training Institute Education Center in Manchester, NH hosted by Justin Deflumeri of Optimal Safety Inspections. The cost is $20 and is limited to the first 15 participants to sign up. Email danielle.cobleigh@outlook.com to register.
On August 21st the Granite State Chapter held a Fundraiser Car Show in Concord NH to raise money for scholarships for Keene State Safety Student Scholarships.
We were able to raise $914 for the scholarship fund and Region 8 of ASSP donated an additional $500 to the student section.
A huge thank you to Joe Orazio for putting the car show together and for hosting the event and to our E-board members Sam Despins, Al Parise and Jeff Slark for volunteering at the event.
Thank you to our sponsors KG Performance Solutions, GZA GeoEnvironmental, Inc. and GeoInsight and to our donors to our raffle Concord Beef & Seafood, Pamela Bealo, CSP, and KG performance.
Congrats to our category car show winners, Ken Mastrullo (people's choice), Len Chaloux (best in show) and Joe Orazio (most unique)
A huge thank you to Ed Zimmer, the ASSP Region 8 VP and Mike Fandell, the New England Area Director for coming out to support the Granite State Chapter and the Keene State Student Section!
The Granite State Chapter is pleased to announce the recipient of the 2021 Safety Professional of the Year (SPY) is Joe Orazio. On Thursday June 3rd Eboard members Sam Despins, and Danielle Cobleigh presented Joe with the award at his place of work, Raytheon Technologies in Hampton NH. Please see the June Granite State Newsletter for more information on the SPY Award and the 2021 Recipient. Congratulations to Joe on being selected as the 2021 Granite State SPY.
On behalf of The Granite State ASSP Chapter, the E-board would like to thank all the students who applied and to congratulate the recipients of the the 2021 Student Scholarship:
Sarah Heinrich: Sarah is a junior at Keene State College from Londonderry. N.H. She received a $1000 scholarship
Mackenzie Lloyd: Mackenzie is a freshman at Keene State College from Tolland, C.T. She received a $250 scholarship.
On Monday April 19th, Chapter Treasurer Laurie Raymond and the Student Section Liaison Andrew Sellers presented the recipients with their checks at the TDS Center at Keene State College.   The entire Granite State E-Board would like to congratulate both students on their scholarships.  More information on the scholarship recipients can be found in the April 2021 Granite State newsletter.
Pictured below from Left to Right are students Mackenzie Lloyd; Sarah Heinrich; and student section liaison Andrew Sellers